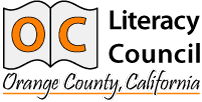 OC Literacy Council
ESL and Fengjie China
---
Editor's note: though many of our ESL tutors -- including this editor -- do so for religious reasons, the OC Literacy Council is officially and explicitly unaffiliated with any religious body or faith.
Written by ESL Tutor Cherry Chin
I have taught English as a Second Language (ESL) for three years to mainly Vietnamese people at the Chinese Presbyterian Church of Orange County. I have found the experience very rewarding and have met a wonderful group of people who are mostly senior citizens. They have interesting stories, in particular, the ones of how they left their country, and how they finally got to the United States.
I look forward to Saturday mornings to be greeted as, "Teacher", "Teacher Cherry". Class starts at 9:30 and way before then, they arrive. They come mostly on their bicycles and on foot. Very few of them drive. Class is fun as it is also their social gathering where they meet their friends to chit-chat.
Last year, I went on a week-end mission trip to San Telmo in Mexico that was quite interesting. Sleeping on the church floor and no shower was just as I expected. However, I did not expect to feel such great emotions as I mingled among the people.
In February of this year (2004), I had the opportunity to go to Fengjie in China to teach Conversational English to English teachers. This was a short term mission trip of 13 people mainly from my church.
Our assignment was to help 260 teachers from the area improve their conversational English skills and to be Christian witnesses to them. We were able to cover a wide variety of English skills based on the lesson plans. We ALL bonded with the teachers and have made new friends. God gave us the opportunity to share his word and love in many ways and we left a lasting impression on those we connected with in Fengjie.
The group went through intense training sessions, taught by Yvonne Leong, which left us drained each day but was worth every minute. We were advised wisely to listen to the students' hearts, listen to their experiences, and get to know them. Pray for divine appointments, be interested and follow through, make friends with them, identify their strengths and weaknesses, encourage them. Our conduct and how we related to them was very important and the key to private witnessing.
Where in the World is Fengjie?
Editor's note: - Some background information in this section was obtained from the website of Yangtze Cruises, Inc.
Fenjie is a city of about 100,000 in one of the poorest regions of China in Chongqing Province. It rests on the banks of the Yangtze River and is one of the towns being flooded and relocated on higher ground due to the much publicized Three Gorges Dam Project.
It is the first city at the western end of the Yangtze Three Gorges and situated at the entrance of Qutang Gorge. It is a place most cruise ships do not stop, but the cruise guides would remind cruisers whenever passing it.

This is a famous ancient town with a history of more than 2,000 years on the northern bank of the Yangtze River in the eastern part of Chongqing city.

According to local annals, the site of Fengjie County had been moved five times from one side of the river to the other along the section of from today's Fengjie to Kui Gate. One of the sites still can be found near Baidi City at the northern bank of the river. It is the site of the ancient Fengjie which was renamed from Yufu to Yongan during the Three Kingdoms period (220-280). The county seat was moved westwards in the Song Dynasty (960-1279) to the present site, where it has remained ever since.

The city sits about 200 miles NE of the City of Chongqing (the former Chungking, capital of Nationalist China). Reaching it was a 7,300 mile journey to Hong Kong via Tokyo, followed by 700-mile flight NW from Hong Kong to the City of Chongqing, followed by a 2-day boat ride NE down the Yangtze River (giving us new meaning to the expression "slow boat to China").
Getting to work
Leaving home at 7am on Feb 16th and losing a day from crossing the date line, it was past 1-a.m. on February 21 when we finally arrived at our destination, a bit road worn, but more than ready to minister and teach. By God's grace, the long journey actually provided much time for the team to bond and to plan.

We had planned to possibly impact 260 teachers, but God's plans were MUCH bigger. Based on our positive impression and the interest on the part of several teachers to have us visit their school, the Dept of Education arranged for us to visit their largest school in Fengjie. They requested that we share about American holidays.

We were STUNNED as we drove up to the schoolyard that afternoon to see 3,600 cheering students ready and eager to hear what we had to say!

We led them in a few fun songs and shared the true meaning of Easter and Christmas. Amazingly, when Miriam (our M.C) asked "Does anyone know what Easter is all about?" -- one of the teachers charged up to the podium in front of the crowd, literally stole the mike, and proudly pronounced, "I know what Easter is. It's the day you celebrate the fact that Jesus was put to death and he came back from the grave!" Interestingly enough, this teacher had taken the English name, Sophia, the Greek word for "wisdom"!

In a land where open evangelism is illegal and it is illegal to teach children in particular about religious belief, we are invited by the local government to share the meaning of Easter and Christmas with 3,600 young students!

The highlight of my trip was to visit Yongan Middle School. Four of my teachers taught there and I visited their classes plus my monitor's daughter's class. I was elated. I felt like royalty!

Children were waving from the 2nd and 3rd story windows and some came downstairs to say goodbye. Some asked for my autograph. I enjoyed a few moments of celebrity!

My student, Amy, gave me a zodiac "hanger". She brought her husband to meet me one night and her daughter the following night. Mary brought her son, Tom brought his wife, daughter and niece, Juliet brought her son - all to meet me. I felt very special!

Lucy, Alice, Amy, and Mary were talking loudly and shouting "Ask her, ask her". I inquired and was told that Lucy wanted to hug me but did not know how to ask. I hugged her tightly. I did not want to let her go. I really felt loved! I thought to myself, "Oh, God this really is worth it." That is love!

We shared our love, God's love, and it returned ten times more!
Letters from students
I received many cards, letters, and even emails from the students and teachers I met on my trip:
Card from my class attached to butterfly hanger

---

Presenting this Chinese knot to Miss Cherry Chin for the English Camp of Class 12 in Fengjie>, Chongqing, China. -- Our friendship forever!

---
Helen (teacher) wrote:

---

Dear Cherry,
You have a childish heart with youth. You offered your happy (happiness) and love to my students and me. We'll remember your laughter and love for ever, Yours,
Helen.

---
Candy (16 yr. old student wrote)

---

Dear Cherry,
Thank you for speaking highly of my English, but I think my English is just so-so. I will study hard in the future. Our friendship will be forever. When I know you will go to the next place, I had felt unhappy. I think I will miss you very much every day. It's my great honor to have the chance to meet you in my life. I will remember you and the other friend of America. I think we are all friends. Don't forget me!
Enjoy yourself every day.
Friend, Candy.

---
Tina (teacher -emailer ) writes

---

Dear Cherry,
Are you at home now or still in Hongkong? All from class12 are missing you. We hope you will come to China again.Now I am trying to speak English in class, following your advice.When the students do not study hard, or not listen to me, I do not scold them, but try to be patient.

---
Tina, in a second email, writes

---

Cherry,
I have got the photos taken with other teachers and you. They remind me of the days spent with you.I had fun because I was a student again...
Cherry, I miss you.I wish you could teach us again. Then I can improve my spoken English. Now, I teach my son English every day and he is very clever.
This is the first time that I have kept in touch with an American. I feel happy because I can practice writing in this way.

---
Tina emailed again

---

Cherry,
My son's name is Ran yu ke(???). Can you give him an English name? It had better begin with Y or R and sound alike Yu ke or Ran yu ke. Besides, it is pleasant and popular. Thank you.
I'm fine now. The weather is fine, neither too hot nor too cold. My family lives on the top floor and we have a small garden on the roof. I am trying to collect flowers and plant them in my garden. It's fun. I hope you can come to our house.
I love you. Best wishes.
Tina

---
I have NEVER felt so much love in all my life; I truly felt God's love! For many years I wondered what I would do with the ESL training I received. I no longer wonder for I have now accomplished more than I ever dreamed of.
---